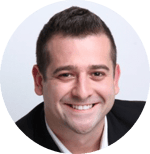 "In just one hour, I'll teach you how to use PowerShell to configure 7 extremely useful security settings in Office 365."
—Vlad Catrinescu, Instructor
About the Course
Eligible for 1 (ISC)² CPE/CEU credit
Does the idea of your users haphazardly sharing sensitive business content keep you up at night? Like it or not, collaborating with internal and external users is part of today's business reality, and Office 365 provides an easy way to invite external users to collaborate with you on documents, tasks and even chat inside your tenant.
In this course, you will learn how sharing is done inside Office 365, and then how to configure SharePoint, OneDrive for Business, Office 365 Groups and Microsoft Teams sharing settings in order to respect your organizational policies, while still enable your users to collaborate with the people they need in order to get the job done.
Complete and submit this form once you finish the course for a proof-of-completion certificate for (ISC)².
About Your Instructor
Vlad Catrinescu is a SharePoint and Office 365 consultant specializing in PowerShell, SharePoint, and hybrid scenarios. As an author, MVP, Microsoft Certified Trainer, and recognized international speaker, Vlad has helped hundreds of thousands of users and IT pros across the globe to get the most out of their SharePoint and Office 365 deployments.

Vlad writes the popular "Absolute SharePoint Blog" and is a recipient of the "Top 25 Office 365 Influencers" award. His contributions can also be found on other sites such as CMSWire and ComputerWorld. He is author of Deploying SharePoint 2016 (Apress), Essential PowerShell for Office 365 (Apress), Deploying SharePoint 2019 (Apress), and over 20 Pluralsight courses.