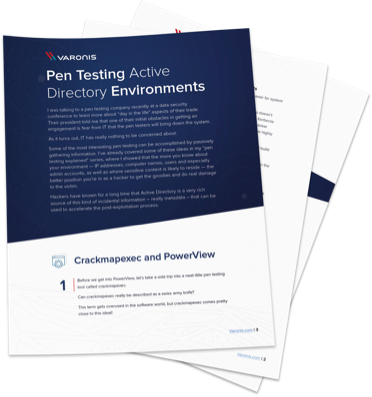 Pen Testing Active Directory Environments
Our free step-by-step Ebook will show you all the tools and tactics that hackers use to leverage AD in post-exploitation.
Have you ever pen tested your Active Directory environment?
Hackers have known for a long time that Active Directory is a very rich source of metadata that can be used to accelerate the post-exploitation process.
Want to learn all the tools and tactics that they use to leverage AD in post-exploitation?
We'll explain how crackmapexec, PowerView, and a little graph theory can be used to ferret out vulnerabilities in your Active Directory environments before hackers find them.
What's covered...
Crackmapexec and PowerView
Getting Stuff Done With PowerView

Chasing Power Users
Graph Fun
Admins and Graphs
The Final Case

And more!
Trusted By
FAQ

Frequently Asked Questions
Won't pen testing bring down my system?

Nope! Some of the most interesting pen testing can be accomplished by passively gathering information. The more
you know about your environment — IP addresses, computer names, users and especially admin accounts,
as well as where sensitive content is likely to reside — the better position you're in.

Do I need to hire a pen tester?

Nope! Instead of bringing in pen testers, the internal IT groups can in theory do the analysis and risk reduction involving
Active Directive vulnerabilities. The goal for IT is to juggle Active Directory users and groups into a configuration
that greatly reduces the risk of hackers gaining user credentials and stealing valuable IP and consumer data
(credit card numbers and passwords).

This looks awesome but I don't have the bandwidth - can you help?