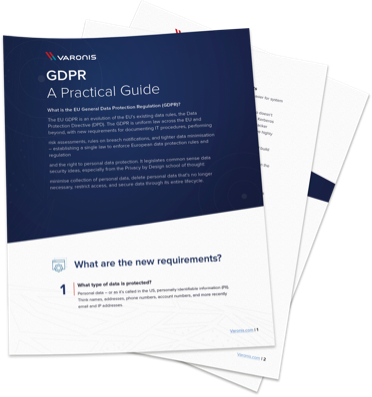 A Practical Guide to GDPR
Learn what GDPR is, how it's affecting companies across the globe, what the new requirements are, and how it helps protect personal data.
Get Ready for GDPR.
Discover, manage, and protect your GDPR data with Varonis.
The EU General Data Protection regulation (GDPR) is now in effect - and it changes the landscape of regulated data protection law and the way companies collect personal data.

Designed to help you better understand the implications of GDPR, this guide breaks it all down into 6 easily digestible lessons.


Lesson 1: What is the GDPR? Why do we Need it?
Lesson 2: Data Protection by Design and by Default
Lesson 3: The Right to Be Forgotten
Lesson 4: Who is affected by the EU GDPR?
Lesson 5: What Happens if I Don't Comply with the EU GDPR?
Lesson 6: Next Steps - How to Get There?
So You Can Learn How To:
Automatically discover and classify GDPR affected data.
Establish access controls and protect regulated data.
Build a GDPR security policy to meet compliance.
Trusted By
FAQ

Frequently Asked Questions
My company is based in the US. Does this impact me?

Yes! If you collect any Pii outside of the United States, you need to be aware and accepting of GDPR regulations.

What are the most important pieces of EU GDPR regulation to focus on for compliance?

Data classification, metadata, governance and monitoring are critical for GDPR compliance.

Can Varonis help me meet GDPR compliance even if I'm not a customer?

Yes! We offer complimentary

GDPR Readiness Assessments.

Learn your risk profile, discover your vulnerabilities and fix your security issues.